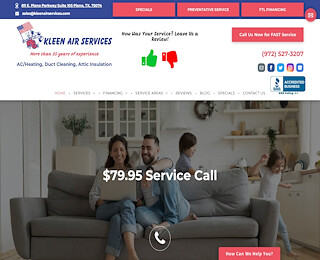 Why Call Kleen Air Services for AC Service in Plano:
At Kleen Air Services, we take a lot of pride in serving the Plano community with heating and cooling options to fit a range of budgets. If you're looking at another Plano cooling season and wondering how your AC is going to get you through, we invite you to give us a call at 972-527-3207. Our techs will be right out to provide you with a thorough inspection and diagnosis of the problem. Following that, you'll be given several options, all designed to meet your needs and budget.
If at all possible, our technicians will restore your AC unit to efficient operation again. In most cases, this is the most affordable option and the one we recommend. It's not possible, however, to repair every AC unit we come across. If an affordable repair is not in your best interest, we'll let you know and we'll provide you with an alternative solution; for example, a replacement model.
At Kleen Air Services, we believe in providing value to our customers, and that means going above and beyond what other companies would provide. We feel it's in the best interest of every customer to sign up for a maintenance plan for their heating and cooling units because we've identified that as the most reliable way to experience a consistent comfortable temperature at home or in a business setting. Seasonal maintenance not only ensures less interruption to service, it saves money annually. During our service check, our techs may find small issues they are able to take are of that will help you avoid costly issues down the road.
We believe our affordable AC service in Plano is the best value in the area. Feel free to visit us online and click on the 'Services' link, then select 'Air Conditioning' from the menu to see our complete Air Conditioning Service PSA Tune-Up List to see what we offer at one of the lowest prices in the Plano area. Clip our digital coupon to save on your AC check up- it's just one more way we are committed to providing value.
Whether you need a simple repair to your system or are considering a replacement model that will save you monthly on your energy bills, we can help. We understand our customers are not always able to budget for an AC repair or replacement, which is why we've partnered with FTL Finance, to help take the burden off of you, should you require a costly repair or new installation. You can apply for financing right over our site, or by calling one of our friendly staff members who can walk you through the process.
At Kleen Air Services, we want to make AC Service in Plano a positive experience for our customers and one which will create a lasting relationship through the years.  Call us for your heating or cooling needs and trust us for affordable solutions that will keep you comfortable all year long.
Ac Service Plano