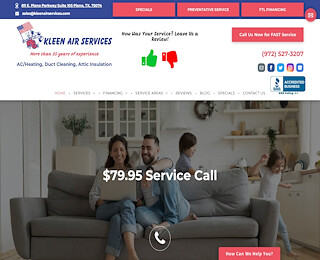 Choose Kleen Air Services for AC Repair in Plano:
If you're looking for a service provider who offers affordable AC repair in Plano and its surrounds, we invite you to see why Kleen Air Services is your best call. In case you're confronting another long cooling season with an AC unit that isn't performing up to its standards, feel free to call us at 972-527-3207 to discuss your options. In most cases, our techs can perform a prompt diagnosis and affordable repair with minimal disruptions to your day.
With summer practically around the bend, numerous AC repair suppliers in the Plano range will be reserved for a while with customers who require maintenance services, repairs and new installations. We recommend making a call to our office a month or two prior to the cooling season to avoid the lengthy wait you may encounter at the beginning of the summer.
Our knowledgeable service techs are able to work on all brands of AC units and give an extensive variety of administrations that go well beyond basic repairs. On the off chance that it's conceivable to repair your AC framework to where it can give you another year of seamless operation, our specialists will do as such. If it just wouldn't bode well to repair your framework, they'll prescribe another model that will demonstrate efficiency and vitality over the lifetime of the item.
Consider just a few of the popular reasons why locals hire us for AC Repair in Plano:
We offer exceptional customer service
Our rates are affordable and highly competitive
You'll experience prompt, timely service
We can come out 7 days a week, often the same day that you call!
We'll provide seasonal reminders and follow-up calls to ensure you're satisfied with our work
Our planned service agreements will save you a great deal of money
As proud service providers to the region, we're pleased to provide the most reliable AC repair in Plano- and beyond. Call our office to schedule a seasonal check-up that will ensure your AC unit will provide long and seamless cooling to your home or business. Our residential spring and fall system check is just $49.95 per system. Tune-ups are just $89.95. Visit us online to see our complete AC service PSA tune-up list to see everything we'll provide for one low price.
You can truly count on our affordable AC repair in Plano. We serve the community with value and resource. While on our website, take a minute to clip one of the digital coupons available, enjoy our blog library, or just learn more about our company. You'll find our site to be a tremendous resource, especially out video section. If you need immediate answers to your questions, call our office at 972-527-3207 and ask to speak with an AC specialist. Our technicians will be happy to help you by phone or assist in scheduling a service call to take a look at your AC.
Ac Repair Plano